Subscribe to our Newsletter
LEVI STRAUSS
Entrepreneur who made blue jeans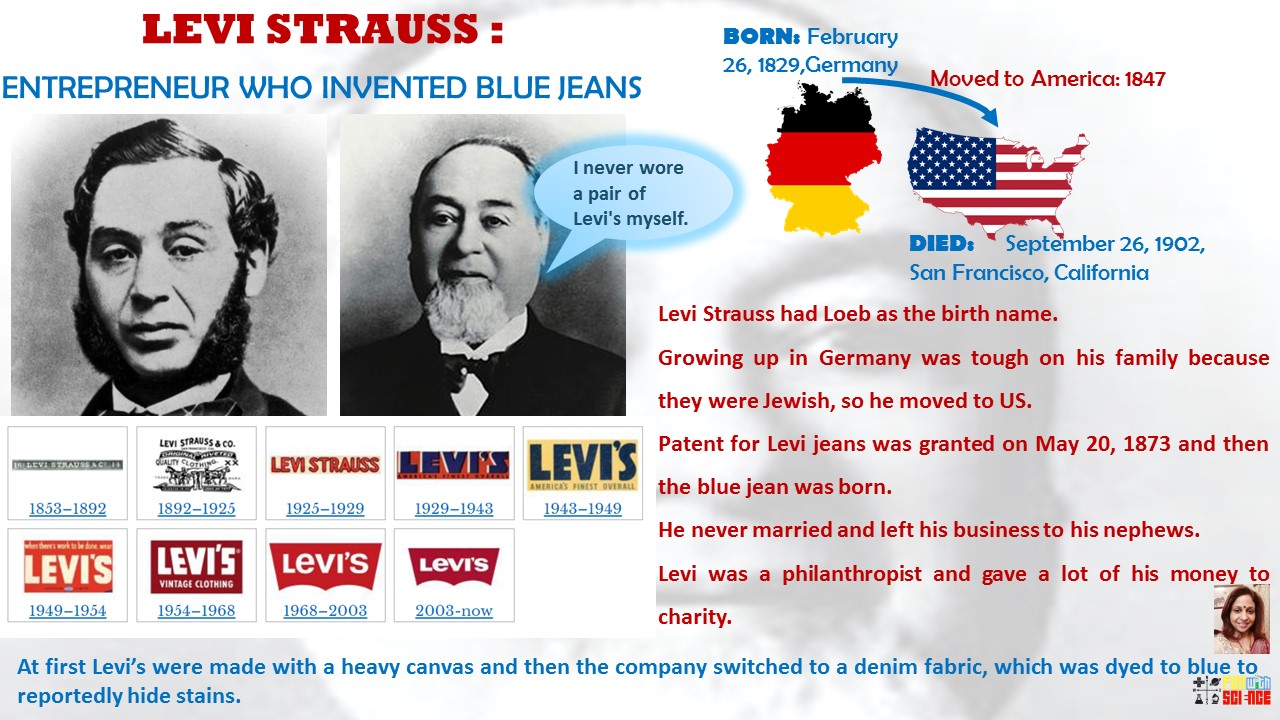 Levi Strauss
Occupation:                        Entrepreneur
Born:                                         February 26, 1829 in Germany
Died:                                         September 26, 1902 in San Francisco, California
Best known for:               Forming the company Levi Strauss & Co., the first company to make                                                         blue jeans.
Where did Levi Strauss grow up?
Levi Strauss was born in the city of Buttenheim, Germany on February 26, 1829. Growing up in 
Germany

 was tough on his family because they were Jewish. Many people there didn't like Jews and made it difficult on Levi and his family. 
Moving to America
When Levi was sixteen, his father died from tuberculosis. Since Levi's older brothers were already living in America, his mother decided to move the family there. At one point he moved to pioneer land in Kentucky and worked as a peddler. He would carry goods on his back from settlement to settlement selling goods. 
Levi Strauss & Co. 
Once in San Francisco, Levi opened up a dry goods store called Levi Strauss & Co. Over the years, Levi's business grew.
Blue Jeans
I
n 1872, Levi Strauss was approached by a Nevada tailor named Jacob Davis. Davis had invented a new way to make durable work pants. 
At first 
these new pants were made with canvas, but eventually Strauss began to use 
a tough material called denim. The denim was dyed blue to hide stains. 
Strauss called these pants "waist high overalls", but they 
eventually became known as "Levi's" or "blue jeans." 
Interesting Facts about Levi Strauss
His birth name was Loeb, but he went by Levi.

Levi gave a lot of his money to charity to help out poor people and orphans.

Today Levi's are considered a symbol of American fashion.

He never married and left his business to his nephews.

He never actually wore a pair of Levi's himself. He was a businessman and the jeans were for laborers.
We have our e-books published on Amazon for Grade 3 and Grade 4. The books serve as an important guide for Science Olympiads organized by SOF, Silverzone, Unified Council and others. Books are designed to help students understand key science concepts.
The key highlights of the book are:
· Well explained topics
· Use of diagrams and images for students to visualize
· Test exercise after each chapter for self-assessment and evaluation
· Interesting facts sections spread across the book
Here are the links: