HETEROTROPHIC PLANTS
Depending on the way plants obtain food, plants are classified as follows: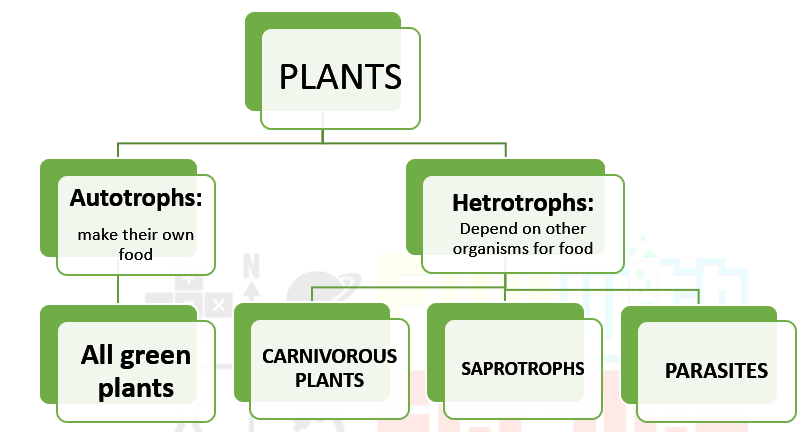 INSECTIVOROUS/CARNIVOROUS PLANT: Insect Eating
All living things must have nitrogen for growth. Carnivorous plants grow in soil that has little nitrogen. So, the Carnivorous plants get nitrogen from the insects they eat.
·      Carnivorous plants grow mostly in wet areas, from sea level to the mountains.
·      North America has more carnivorous plant genera than any other continent.
·      Common Carnivorous plants are Venus flytrap, sundew and pitcher plant.
1. PITCHER PLANT
·      Pitcher of the pitcher plant is actually a modified leaf. The apex of the leaf is the lid.
·      The walls of the cup make nectar.
·      This nectar attracts insects. When insect lands on the wall, it falls down into the liquid.
·      The insect is trapped inside because the walls of the cup are smooth and slippery and the walls have hairs pointing down.
·      After the insect is dead, its body rots. Rotting of the body releases the nitrogen from the insect's body. The nitrogen then goes into the liquid and the plant takes in the nitrogen from the liquid.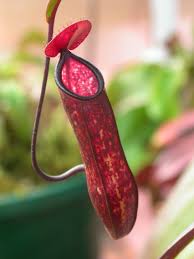 2. VENUS FLYTRAP/ DIONAEA MUSCIPULA
Its native habitat is in the swampy areas of North and South Carolina.
·      Since swampy soil lacks in nitrogen, the plant eats insects for its nitrogen needs. 
·   It has 4 to 7 green stems, with the end which traps the insects.
·      The stems perform photosynthesis while the traps capture the prey.
·      The traps are made up of two elongated leaves with spikes.
·      When the spikes, or trigger hairs, are touched, the leaves snap shut over prey.
·      Larger plants can even capture rodents and amphibians.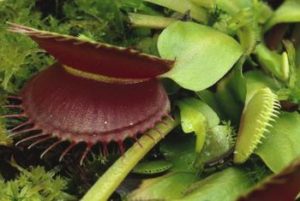 3. SUNDEW/ DROSERA
·       They use a thick gluey goo called mucilage to trap and digest their prey.
·       They are one of the most common carnivorous plants.
·       They are found everywhere in the world except Antarctica. 
·       Many sundews species usually live for two or more years. Others live for only one year and reproduce by seed. Some sundew species can live for 50 years.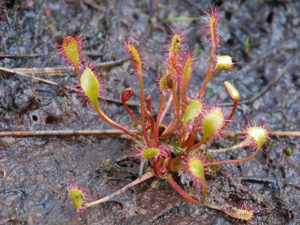 4. SAPROTROPHS/SAPROPHYTES/SAPROBES
·    They get their energy from dead and decaying organic matter. This may be decaying pieces of plants or animals.
·       They are not green and so they need to take food from the organic matter.
·       Such plants are called fungi.
·       A plant called mould starts growing on the bread slice if kept for long.
·       Mushroom is also a fungus.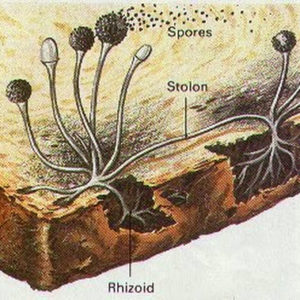 5. PARASITES
They derive their nutritional requirements from another living plant.
They have the ability to extract water and nutrients from the host plant (Plant from which they extract their nutrient). 
Few examples:     

We have our e-books published on Amazon for Grade 3 and Grade 4. The books serve as an important guide for Science Olympiads organized by SOF, Silverzone, Unified Council and others. Books are designed to help students understand key science concepts.
The key highlights of the book are:
· Well explained topics
· Use of diagrams and images for students to visualize
· Test exercise after each chapter for self-assessment and evaluation
· Interesting facts sections spread across the book
Here are the links: